4×4 Expedition Camper Units & Expedition Trucks
We can build your dream
It is our passion
With more than 25 years experience in building overland cars & trucks and travelling with them!!!
If you want to make a good choice for an overland car or truck, or just want to talk about travelling with an overland capable vehicle.
Then come to our workshop in Leuth.
Together, we will drink a cup of coffee, dream about travelling, and how we can make it happen.
Together with our customer we take time to come to a final result of their dream car.
Meanwhile, I will take care that there will be a good balance for road and off-road use.
We always build according to the regulations of the car/truck manufacturer.
Together around the table we work out the rough idea to some sketches on paper.
After this, we will make the concept drawings, so the customer can see the results, and of course, it is still open for fine tuning.
For cars up to 3,5 ton
We use a lightweight aluminium fully welded frame, with almost indestructible honeycomb panel (30 mm). A subframe from aluminium on a Hilux or similar is under the 200 kg!!
For cars/trucks under the 7,5 ton
We use a bit heavier aluminium welded frame with honeycomb panel or 60 mm sandwich panel with a core from recycled pet bottles.
Means, strong, high insulation and can have more the 60 degrees outside skin temperatures  (many other panels don't) so no delaminates even with a black colour on it.
Here we always use a steel subframe.
Above the 7,5 ton
We use a heavy aluminium welded frame with the early mentioned 60 mm sandwich panels and a heavy steel subframe
From the start of the build we keep you regularly updated, so you can see and follow your dream car coming alive.
Here we take a day for explaining the whole car/truck and going for a test-drive together.
And then 'you' bring it on the road to……
For a good shake-down.
And the fun starts…
You can call me 24/7
What we can do for you
Helping to find a good car/ truck
Long range tanks
Gas tanks
Chassis upgrades
Winches
Awnings
Wheels/tires
Recovery equipment
Etc.
Solar / Electric
We use only Victron Energy.
After 25 years of good experience
Explore to the max
Also, we can provide a driving course and all the dos and don'ts in desert driving.
Together with us, you will have a fantastic shake down in the wonderful Morocco for 7 days.
With me as the mechanic and guide on the piste. (wintertime only dec/jan/feb)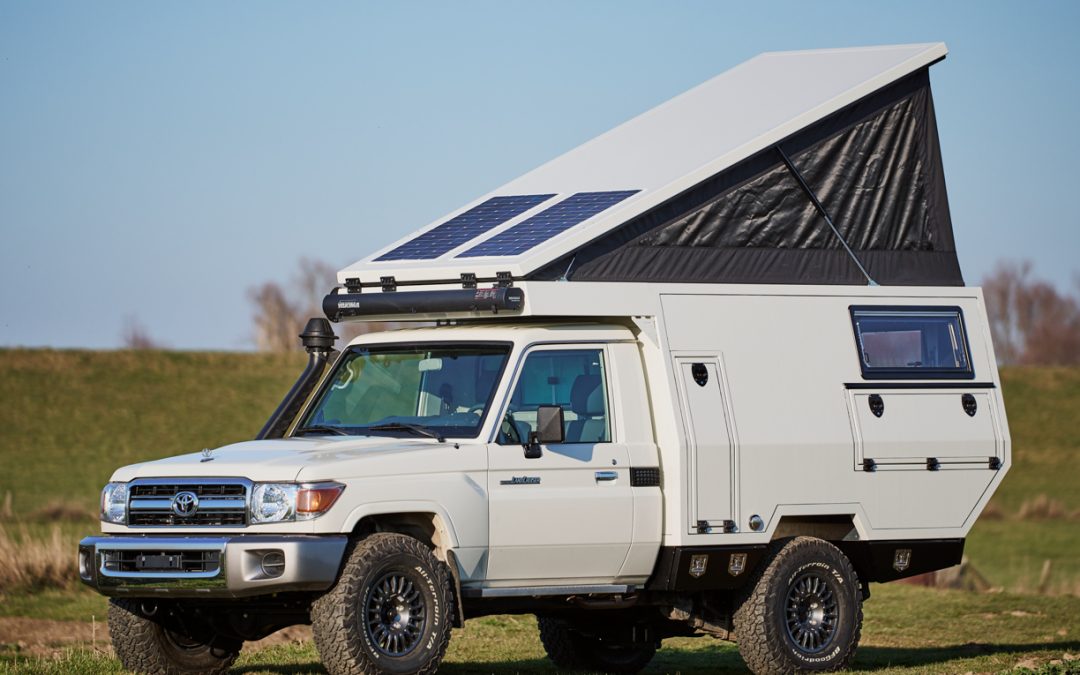 Looking for the ultimate off-road adventure vehicle? Look no further than Tembo Travel Services' Ndogo 4x4 camper model, mounted on a Toyota LandCruiser GRJ 79 petrol single cab. The Ndogo is the most compact of the three concept units based on the LandCruiser 79....
read more
Toyota Landcruiser GRJ-79 One of the concept cars we are going to build this year. If  "SIMPLY" is the keyword for a overland car, this car is THE BEST. for use all over in Europe without restrictions, but special for travellers who want to use it also outside...
read more
Location
Lieskes Wengs 3A
6578 JK Leuth
KvK:
59186097
Details
VAT:
NL001953146B02
Bank:
NL23 RABO 0301 8069 93